Real talk alert: averages are easy to understand and calculate, but in reality, most data sets include a few very heavy outliers which significantly manipulate the meaningfulness of the averages. Therefore let's take a look at percentile analysis — you're going to like it!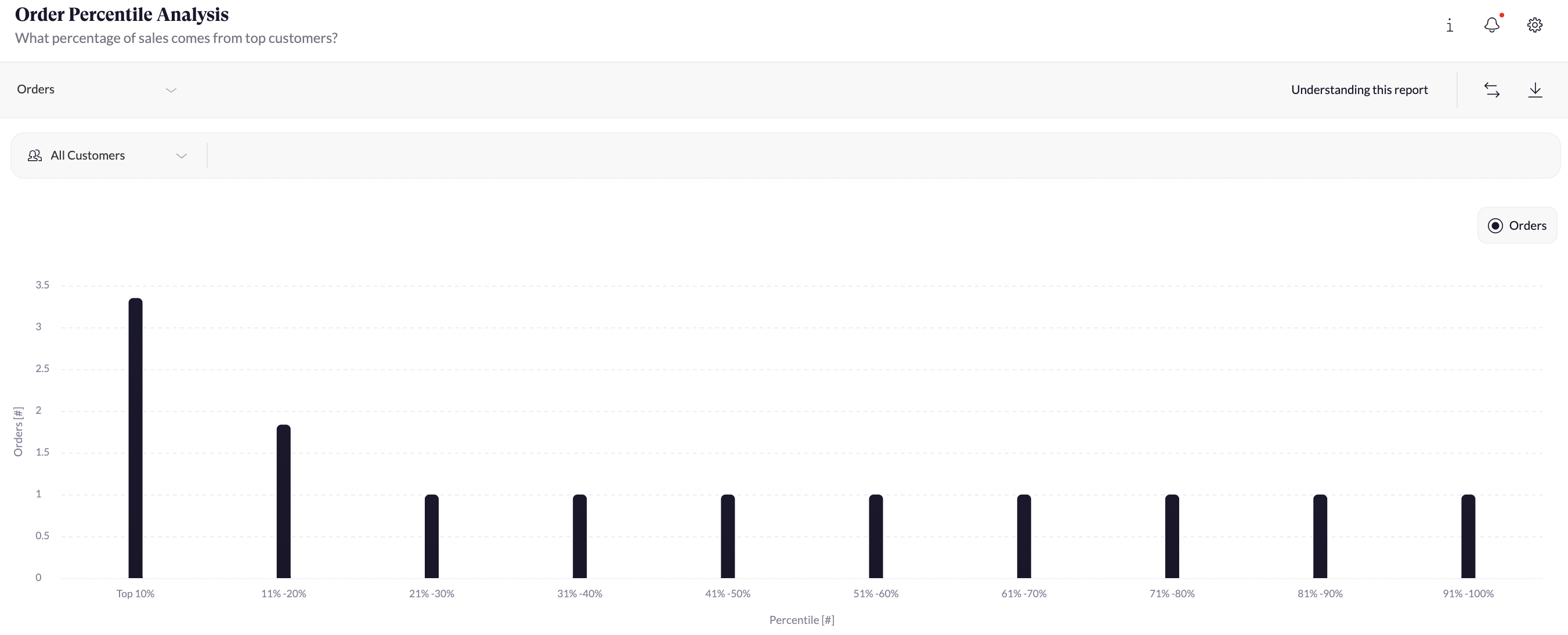 Definitions
Percentiles indicate the percentage of scores that fall below a particular value. They tell you where a score stands relative to other scores. For example, a person with an IQ of 120 is at the 10th percentile, which indicates that their IQ belongs to the top 10% and thereby is higher than 90 percent of other scores. Percentiles are a great way to understand the relative standing of a value. Where does a value fall within a distribution of values?
Our Percentile Analysis divides your customer base into ten equal-sized intervals by ranking them e.g. based on their order quantity. For example, the top 10% percentile includes the best 10% of your customers based on their order quantity.


For each percentile, we then calculate their key metrics that help you better understand them:
| | |
| --- | --- |
| Orders | Average number of orders per customer |
| Revenue Contribution | Percentage of total gross revenue generated by customers in the percentile |
| AOV | Average Order Value - calculated as Sum of Gross Revenue / Count of Customers - within each percentile |
| Gross Revenue | Sum of Gross Revenue per customer |
| Net Revenue | Sum of Net Revenue per customer |
| LTV | Estimated Lifetime Value per customer |
| Lifetime (Months) | Amount of months your customers remain active |
| Product Return Rate | Percentage of items that are returned; exclusively available for custom integrations, , and . |
By default, revenue is excluding taxes, shipping revenues, and discounts. Although we highly recommend using our default definition, but you can modify the revenue calculation under Company Settings > Report Settings. Please note that this will trigger a complete re-import and recalculation of all your data.
Use Cases
Isolating and analyzing your percentiles is powerful if you want to find out:
Whether your revenue is very dependent on a small percentage of customers
Whether product returns are a fundamental problem for your business or whether a certain customer group is mainly driving your return rates; you could think about introducing return costs for them
Where you should set the boundary for the creation of your customer segments
Who your top customers really are and e.g. appreciate them with a loyalty program


What You Need
For this report to work properly, the following data must be imported:
Order ID
Order Date
Stock Keeping Unit (SKU)
Items Sold
Item Price
VAT
Discounts
Shipping Revenue
Product Returns